News 2020:Crimes against humanity in Canada: Poisoning with attempt to homicide and multiple acts of persecution. (See more).
---
We went to live to Nova Scotia, Canada in 2010 thinking that Nova Scotia should be a good place for living. But we were mistaken. Nova Scotia is a very bad place for immigrants because local people hate immigrants deeply. Here, believe it or not, local people chose us as they favorite toy for having fun and worse, we must pay, directly or indirectly, most of the expenses that they have when they are using us as a toy. Most of the people that chose us as their toys are earning around $100.000 o more money per year. In Canada we are not the exception from attacks that have immigrants as targets.
Here we live isolated in the basement of our home because we need to save money for leaving this bad place. Here we are living with what we have. Here we don't have a job because we refused to work in the hard and unhealthy jobs with a minimum wage that are reserved to immigrants; doesn't matter their education. The only contact we have with local people is when, most of the time, we are going to the town to buy food. We don't know local people, but instead they know us very well.
In 2010 when I bought a jeep Patriot, the dealer Rosaway Huskilson Chrysler Dodge Jeep in Shelburne, NS (http://rosewaychrysler.com/) installed in the car a Silent Sentinel for tracking the car 24 hours and said that was a 'security Chrysler factory feature' of the Jeep. They lied and of course they charged me that feature for tracking us and to have fun.
Since 2010 we don't have freedom to travel to any part of Canada without being tracked and intercepted as part of the game. Also in addition, we cannot have a phone or a cell phone because as soon they know that we have a phone number they tape it. Also they organized people in the village to report to them all our movements. Part of their fun is sending an email that like a spam where they are letting us that they know what we were going, doing or speaking. In other words, we don't have privacy.
Here there are some recent examples about some facts:
On Septiember 3, 2016, we went to Montreal and around 3 a.m. when we arrived to the gas station at the entrance of Levi, Quebec, when I was paying the gas came a RCMP woman in the patrol and put her patrol car blocking my vehicle without saying nothing. For leaving I should do an inapropriate U-turn and I parked my car in the gas station for washing the windshield and see what will do that police woman officer. Again, without saying anything she prepared her patrol for following us. When I leaved the gas station she followed us until that we reached the Trans-Canada Highway. Who send that woman police officer? It was obvious that she is a friend of the people that toy with us and she participated in the game. An officer of the RCMP earns about $100.000 per year.
On September 9, 2016, two hours after sending a letter to a Consulate in Montreal I received an email with this text: "purpose of the people to crush out treason and save the nation has for a single instant wavered". It was obvious that the employee of the Canada Post Office reported to somebody the letter that I sent. I would like to know what is wrong sending letters to consulates. In Canada, is it considered an act of treason? What is the crime?
As well, several months ago we reported to the ombudsman of our Bank that there were acts of stealing information from my account by some employees. To whom were these employees reporting our banking information?
On January 6, 2017 our masters decided to play with us a big and a very funy game for celebrating Epiphany or the Three Kings' Day! They sabotaged the breaks of our car. That day Buck's Home Building Centre sent an email for paying an order. So, I went to Buck's Home Building Centre around 2 p.m. and there, I should wait about 20 minutes until I could pay the order. That the only place I went that day with my car. When I went back to my home, on the HWY 3 I tried to stop because they were a school bus and two cars stopped in my lane. I had zero breaks and no way to stop the car that was going at 70km/h. So I decided to go to the ditch to avoid a big accident hurting people or worse, killing somebody.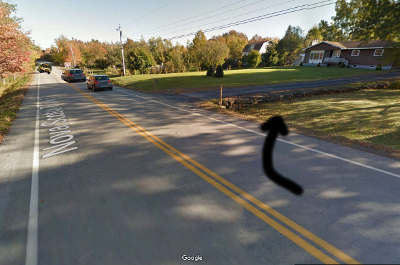 In the moment of the accident the car hit with the bumper and had a right 90 degrees roll over. The accident happened around 3.30 p.m. The side of the driver had NOT damage. The accident happened on the Provincial property.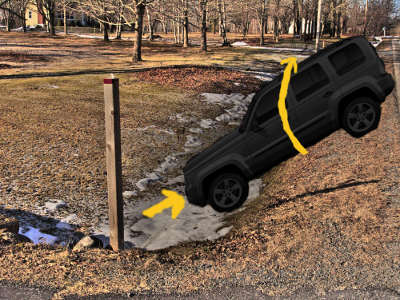 That vehicle was under Chrysler program maintenance and several months ago at Chrysler were done the new breaks.
As soon the accident happened, Dustin Johnson and Kaleigh Wagner, the owners of the property were happened the accident, come. I didn't know them, but days later I knew who they are.
Immediately after the accident, Dustin said that he called 911 and the towing. (How to?) He never called 911 and nobody there (School bus and the driver for the two cars) called 911. Dustin and Kaleigh offered me 'help' that I accepted because I didn't have a cell phone and I was shocked by the accident. But their 'help' aimed to remove me from the place of the accident because they wanted to take possession of my vehicle and they achieved that.
While Kaleigh hold me against my will inside her home, Dustin managed my vehicle as if my vehicle it was his vehicle. When the car was ready for being towed, about one and half hours after the accident, it came an ambulance to participate to the final time of the show with the main purpose of stopping me to go with the towing and my car. Before going to the ambulance, Dustin took again advantage of the situation committing a fraud taking my private personal data from my driver license. He said that I couldn't leave his house if I didn't give to him my driver license and the data of the insurance arguing that I damaged his lawn. After, the nurses forced me to go inside the ambulance as if they were very worried for my health and my blood pressure! In the facts, the Health Care was never worried for my health. Here, I can see a doctor but I don't get treatments because most of the time doctors say that I don't have anything and all is in my head. The last time that I went to the hospital because I was very seek, they performed some tests and of course they said that the tests were good, so I didn't have a good and a real treatment, because for them all was in my head. As I was going worse, I was looking for alternatives and I found that in Montreal there is a Chinese Hospital, so I decided to see a Chinese doctor. The Chinese doctor that I saw was amazing. When I saw him, without saying anything, he took me the pulse. Immediately he started to describe with quite precision all the symptoms I had. After he prescribed me Chinese medicinal herbs that cured me in less one month, he wanted to know how severe were my symptoms because I was very week. The cost was $25 plus the costs of the Chinese medicinal herbs.
At the ambulance they said me that I could not go with my car because it needed to go to some mechanic before to go to the Chrysler dealer authorized by the insurance. At the place, the local Fire Station, Ground Search and Rescue, a black car with blue-red flashing light at the front (I don't know who they are) and the Health Care participated in the big game and in the show. The police never came. The next day, trying to know where was my car, I knew that the policed didn't have registered the accident and also the accident wasn't registered at 911. That big accident was inexistent! My car was vandalized before it was deposited at Chrysler dealer in the late morning of the next day of the accident. The rear door of the driver side appeared with a big damage. It is clear that it was vandalized as you can see in the following picture!!!
It has few damages on the opposite side. It surprised me that the radiator had a big damage when the car had the collision with the bumper and there had not visible damage in the front at the moment of the accident. The visible vandalism on the door of the driver side was it a message telling us that they can do whatever they want with us because we are immigrants?
Also I knew that the sabotage of the breaks was fixed because Chrysler said that they didn't found any problem in the breaks. How I had zero breaks? In other hand, I assume they removed all the bugs that they put in the car for tracking us. That were the reasons that they didn't want that I go with my car.
Another irregularity, it is that the towing reported in its invoice that the accident happened about 10 km farther from the real place. For that and for leaving at Chrysler a vandalized vehicle the towing passed an invoice for about 1000$. The invoice say that the accident happened at Daysping but it happened at Rhodes Corner.

Looking the map, I think that they were expecting that I had a roll over at the curve that was near from the accident. So they should have more fun if in add to a roll over I should have also a head collision!!! All the facts aims that Dustin and Kaleigh were there expecting the accident. Of course, the silent tracking installed on the car was revealing in the real time the position of the car. The breaks were sabotaged to fail when the vehicle was going at high speed.
With this game all of them made a very good money, they had a lot of fun, they destroyed our vehicle and we lost a lot of money from our saved money to get a new car. It is clear that they want we leave. Of course we will leave this miserable place as soon we can. Our house is on sale since a couple of years but we can't reduce the price at the price that they want to pay. Our house is a fully renovated house. Most of the money is invested in the house. For leaving this bad place we need this money. We don't have choice.
Here we don't have where and to whom complaint because all are friends and we are inmigrants.
Please, who is reading this article and want to help us to leave this miserable place, we are asking to buy any of the products advertised in this website. That is the only way that we have for collecting money because here, we don't have the way to open a donation account. We can't continue living in Canada in this condition. Thanks in advance for your help.